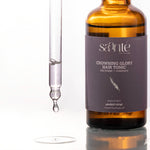 The missing product for healthy hair growth in your haircare routine
We put our hair through a lot—tugging, pulling, heat, styling, chemicals, yet when it comes to caring for them, we stick to basics like shampoos and conditioners that only provide topical benefits instead of a product for healthy hair growth. It's important to remember that in order to have healthy, lush hair, we need to go back to the roots. Including a hair tonic in your haircare routine is a simple yet extremely effective way to give your scalp strength and nourishment and promote healthy hair growth. Saanté's Crowning Glory Hair Tonic is an extremely lightweight concoction that is absorbed by the scalp instantly, leaving no greasy residue. A few drops massaged onto a clean scalp is all you need to do to reap its benefits, with no requirement of a post-shampoo.
Inside the Saanté Hair Tonic
A potent blend of plant-based Aromatherapy essential oils and Ayurvedic herbs, our hair tonic is a tried and tested remedy that infuses ancient remedies to strengthen your root and speed up hair bulb regeneration for denser hair growth. It truly is the one product for healthy hair growth that you can use daily. Clary sage adds strength to the root and helps stimulate the scalp while juniper detoxifies. Herbaceous rosemary is restoring and energising, releasing tension from your scalp and promoting blood circulation. Lavender's calming, anti-inflammatory and antiseptic effects combat a root cause for hairfall we often ignore—stress. Every ingredient in the Saanté Crowning Glory Hair Tonic works together to tackle hair fall, improve microcirculation and soothe inflammation.
What it does
There are many problems the Saanté Hair Tonic can tackle:
Protects the scalp
Our scalp goes through harsh aggressors like heat, styling, chemicals and more. Protecting it from surface damage in turn protects hair follicles and prevents hair breakage or dry, flaky skin. Using a hair tonic daily will help improve the overall health of your scalp. 
Promotes hair growth 
Massaging your scalp daily with the hair tonic will help speed up the hair bulb regeneration process, thereby accelerating thick, lush hair growth. 
Purifies the scalp
The nourishing ingredients in the tonic help keep the scalp clean and nourished while also stimulating the hair follicles to promote hair growth.
Reduces hairfall
Massaging the hair tonic on your scalp will keep it nourished and clean, thereby promoting healthy skin. Because of its balancing effects,the tonic helps retain the scalp's natural oils, strengthening and maintaining its overall health, thus reducing hair fall...
Our Crowning Glory Hair Tonic is like breakfast for the scalp, and an essential product for healthy hair growth.. A daily dose of it can do wonders for scalp health. And you don't have to worry about your scalp being oily, dry or dirty. Use it every day—even after your hair oiling and washing ritual—it's so lightweight, we promise it won't leave any traces!