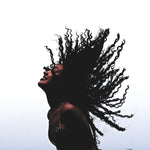 The Saanté Selfcare holistic ritual for stronger, thicker hair
Indian households have always paid equal attention to hair care as they do to skin and body care. Head massage and haircare rituals were, and continue to be, a quintessential part of many. Traditionally, thick, lustrous locks were regularly bathed in nourishing oils, deeply massaging the herbaceous blend to stimulate the chakras on the head, then washed off with a natural concoction of cleansing herbs and flowers. And while making your own herbal concoction may seem a bit far-fetched, we can certainly build a nurturing hair care ritual inspired by Ayurveda for ourselves with clean, natural products made using the same ingredients and philosophies prescribed in age-old scriptures that have clearly stood the test of time. At Saanté Selfcare, we strive hard to preserve these ancient rituals and bottle them for you—so you can continue reaping the benefits of our rich heritage and bounty that has healed many generations. Our formulas are a result of 50 years of research, knowledge and expertise in the sciences of Ayurveda, Aromatherapy and Reiki. And here's how you can use Saanté Selfcare for stronger, thicker hair.
Take a holistic approach to hair care
This isn't really a product or a massage, it's about reminding yourself that you are doing this to heal from the inside out. Saanté, like Ayurveda, takes a holistic and natural approach to haircare. Consistency and knowing that quick fixes are never the answer is step one towards building a strong hair care routine. We treat the problem from deep within the root, which shows up on the surface. Respecting your hair and treating it with love and nourishment on a regular basis will ensure your natural, thick, lustrous hair growth. And don't forget the importance of the humble head massage—do it for at least 5-10 minutes to boost blood flow, cell regeneration and strengthening of your hair follicles.
Use a daily nutrient-rich tonic to improve scalp health
When it comes haircare, we stick to the basics, not realising that daily-care can be beneficial for our overall scalp health too. Our Crowning Glory Hair Tonic is like breakfast for the scalp and hair. Use it daily—it absorbs instantly into the scalp and shaft without leaving any residue. The potent mix of clary sage, juniper, lavender and rosemary will help improve microcirculation, soothe inflammation and speed up hair bulb regeneration for denser hair growth. The lightweight, non-greasy and easily-absorbing formula makes it an everyday essential. And you don't have to worry about your scalp being oily, dry or dirty. The hair tonic can also be used once you've finished your hair oiling ritual and washed your hair.
Stimulate blood flow to reduce hair fall  
Happy, shiny hair starts with the roots a.k.a a strong, healthy scalp. Featuring anti-inflammatory rosemary, a herb known to keep hair follicles healthy and reduce dandruff or flaky skin, along with clary sage, lavender and juniper, our Crowning Hair Glory Hair Oil will help reduce hair fall and increase hair growth. Massage this nourishing blend onto your scalp and leave it on for an hour or overnight—use it twice a week as part of your selfcare ritual. 
Our Crowning Hair Glory Hair Oil for Men features specific oils of castor, rosemary, pumpkin seed and black seed to target male-specific hair problems like baldness and alopecia, along with promoting healthy regrowth and thicker hair.
Nourish and strengthen the shaft
With all the environmental damage and heat styling, it's important to give our strands a boost of nourishment and love to repair. A nourishing and powerful blend of three oils—Argan, Sesame and Coconut—our Strengthening & Nourishing Hair Oil features the highest quality ingredients known and loved for centuries in Indian households and Ayurveda for lush, healthy hair. With regular use, it will rebuild and repair dry, dull and damaged hair, and deeply nourish. Use twice a week and leave overnight if needed.
Include hair superfoods in your diet 
A holistic approach to haircare means being mindful of not just what you put on the outside but how you nourish from the inside. Eating the correct balance of protein, vitamins and minerals will supply hair with all that it needs to remain shiny and strong. Including iron-rich foods like lentils, spinach and other leafy green vegetables such as broccoli, kale and salad greens, antioxidant-rich blueberries, guava, oranges, papaya, strawberries and sweet potatoes, and omega-3 fatty acids can all contribute to hair health.