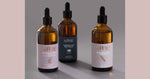 The benefits of Saanté's hair oiling rituals
Hair oiling is inherent to Indian culture. Rooted in tradition, ancient medicinal healing and the science of life—Ayurveda, the ritual of massaging the scalp and hair with oils infused with potent herbs has innumerable benefits. In Ayurvedic therapies, 'abhyanga' or 'massage' is integral. Our head is the most significant part with vital energy points that connect to the mind and brain, and has the most important chakras for wisdom and enlightenment. Our hair oiling rituals are designed to stimulate and balance these chakras, and thereby promote a healthy scalp, reduced hairfall and lush, lustrous hair. Infused with Ayurvedic and Aromatherapy ingredients with scientifically proven medicinal and fortifying properties, like clary sage, coconut oil, sesame oil and lavender, massaging your head and hair regularly with our oils will aid in relieving pressure in the head region, boost circulation and promote healthy hair growth. This simple ritual will condition the scalp, strengthen the hair roots, prevent hairloss and premature greying, reduce hair frizz and hair fall, replenish dry hair and prevent brittlness, and refresh the mind! 
The Saanté Strong & Shiny Hair Ritual 
Step one: Begin with the Crowning Glory Hair Tonic 
Prep your scalp with our Crowning Glory Hair Tonic, which absorbs instantly into the scalp and shaft without leaving any residue. The potent mix of clary sage, juniper, lavender and rosemary will help improve microcirculation, soothe inflammation and speed up hair bulb regeneration for denser hair growth. The lightweight, non-greasy and easily-absorbing formula makes it an everyday essential! 
Step two: Stimulate with Crowning Glory Hair Oil 
Happy, shiny hair starts with the roots a.k.a a strong, healthy scalp. Featuring anti-inflammatory rosemary, a herb known to keep hair follicles healthy and reduce dandruff or flaky skin, along with clary sage, lavender and juniper, our Crowning Hair Glory Hair Oil will help reduce hair fall and increase hair growth. Massage this nourishing blend onto your scalp and leave it on for an hour or overnight—use it twice a week as part of your selfcare ritual.
Our Crowning Hair Glory Hair Oil for Men features specific oils of castor, rosemary, pumpkin seed and black seed to target male-specific hair problems like baldness and alopecia, along with promoting healthy regrowth and thicker hair. 
Step three: Strengthening & Nourishing Hair Oil 
With all the environmental damage and heat styling, it's important to give our hair a boost of nourishment and love to repair. A nourishing and powerful blend of three oils—Argan, Sesame and Coconut—our Strengthening & Nourishing Hair Oil features the highest quality ingredients known and loved for centuries in Indian households and Ayurveda for lush, healthy hair. With regular use, it will rebuild and repair dry, dull and damaged hair, and deeply nourish. Use twice a week and leave overnight if needed.